"The Ellipse guitar...it wouldn't look out of place in a cubist painting...a triumph of form and function" - Adam Perlmutter, Acoustic Guitar Magazine, March 2011, Great Acoustics page.
I have been involved in designing and constructing guitars since the turn of the millennium. Of particular interest to me is taking this musical instrument in new directions both technically and aesthetically, offering my own interpretations as an artist/craftsman. My educational background is well suited to this endeavour, with formal studies including four years of engineering (University of Windsor, Ontario, Canada) and three years at the renowned School of Crafts and Design (Sheridan College, Oakville, Ontario) in the wood studio program under the direction of Donald Lloyd McKinley. Earlier when I was a teenager I took piano lessons and music theory (Western Conservatory) and have fond memories taking classical guitar lessons with John Hall from Detroit, Michigan.

I hope you enjoy the content of this website (it is best viewed on a computer monitor). It will be updated regularly informing of additions to the body of work presented here, and I invite you to follow me on Facebook and Instagram. For price, availability and to place an order, please contact me via e-mail
info@edwardkleinguitars.com. All inquiries are welcome and appreciated.
Website design including photography by Edward Klein. Copyright 2021. All rights reserved.
MUSIC STAND Lacquer finish on laminated wood, stainless steel 1989
The Ellipse guitar elegantly integrates form and function, placing this contemporary instrument in a class all its own. Although playful in appearance, advanced features are thoughtfully engineered into this unique asymmetrical design.

The multi-scale or fanned fret fingerboard spanning the lengths of 640 to 660 mm has a beneficial effect on tone and offers comfortable fingering/hand positions the entire length of neck. It also accommodates lower drop D tuning tension well. The tilted upper bout and an elevated fingerboard promote easier reach to the higher frets. Accurately machined progressive (or compound) radius fingerboard ensures lowest possible action. Optional pickup components are easily installed and accessible via the removable bottom panel (elliptical in shape of course!). Future internal cleaning or repair work through this opening are added benefits. Special transparent dyes are added to the lacquer allowing the natural beauty of the wood to show through the graphics. Several colour choices are available.
Ellipse S (steel string)
Curly maple, spruce, ebony, mahogany, lacquer finish
This fretless bass is a classic double cutaway design with comfortable reach extending two octaves, and features a body strategically chambered for both weight reduction and tonality. The warm EMGX active magnetic pickup is paired with Graph Tech Ghost piezo saddle transducers. These inputs can be selected separately or combined together, with independent controls for volume and tone. Thomastik-Infeld Jazz flatwound strings connected at both ends to Hipshot tuning machines and bridge round out the high end hardware. The four piece laminated maple neck, dovetailed and glued securely in alignment, is carbon fibre reinforced and adjustable with a custom made single acting truss rod. To provide lowest possible action, the thin ebony fingerboard is precision machined with a compound (or progressive) radius. Spray finished with a satin water based low VOC lacquer for a smooth feel and reduced reflection.
Wood species depend on availability at time of order, especially the highly figured veneers. This bass can be optionally configured with a single pickup (mag or piezo) and as a 5-string version.
CLASSICAL Western red cedar, East Indian rosewood, Spanish cedar, ebony
Articulate and balanced in voice, this concert guitar is capable of delivering a rich tonal palette. Notes that range from sweet, delicate trebles to earthy, robust basses all share a pleasing timbre with volume and sustain to carry the music to those who will appreciate. If you are expressive in your playing, this guitar will reward you.
Carbon fibre reinforced neck features an elevated fingerboard extending to a 20th fret.
A twelve hole bridge tieblock provides good break-over angle, simplifies stringing and gives a neat clean look.
Appointed with high quality tuning machines. Options are possible at extra cost. A raised armrest is also offered (see the Performance OM for picture).
Scale lengths of 640, 650 (standard) and 660 mm available.
Typical construction materials include East Indian rosewood back and sides with spruce or cedar for the fan braced soundboard. Necks are fashioned from Spanish Cedar and fingerboards in Ebony. A thin finish of lacquer is applied with the exception of the soundboard where a French Polish is preferred. For specific tonewood alternatives please contact the maker for price and availability at time of order.
PERF
O
R
M
ANCE Shown here in Figured walnut, Sitka spruce, maple, ebony
This OM (orchestral model) size guitar will please the fingerstylist with its wider neck and 25.4 inch scale. This neck, dovetail joined to the body at the 14th fret, has the elevated fingerboard design. It is carbon fibre reinforced and fitted with a double acting truss rod. An accurately machined progressive (or compound) radius fingerboard ensures lowest possible action. Adjusted string spacing at the nut and saddle provide an equal distance between strings of different diameter.
An optional raised armrest offers enhanced player comfort and isolates the forearm from contacting thus restricting the vibrating X-braced soundboard.
The random pattern ring rosette under a very thin clear plastic pickguard surrounds the soundhole. Faux cross-stitch inlay playfully decorate. To minimize damping yet still provide adequate protection, a thin lacquer finish is applied. The soundboard can be French Polished on request. This and other options are possible at extra cost. Appointed with high quality tuning machines. For tonewood selection please contact the maker for price and availability at time of order.
These images below are of past work and are no longer available.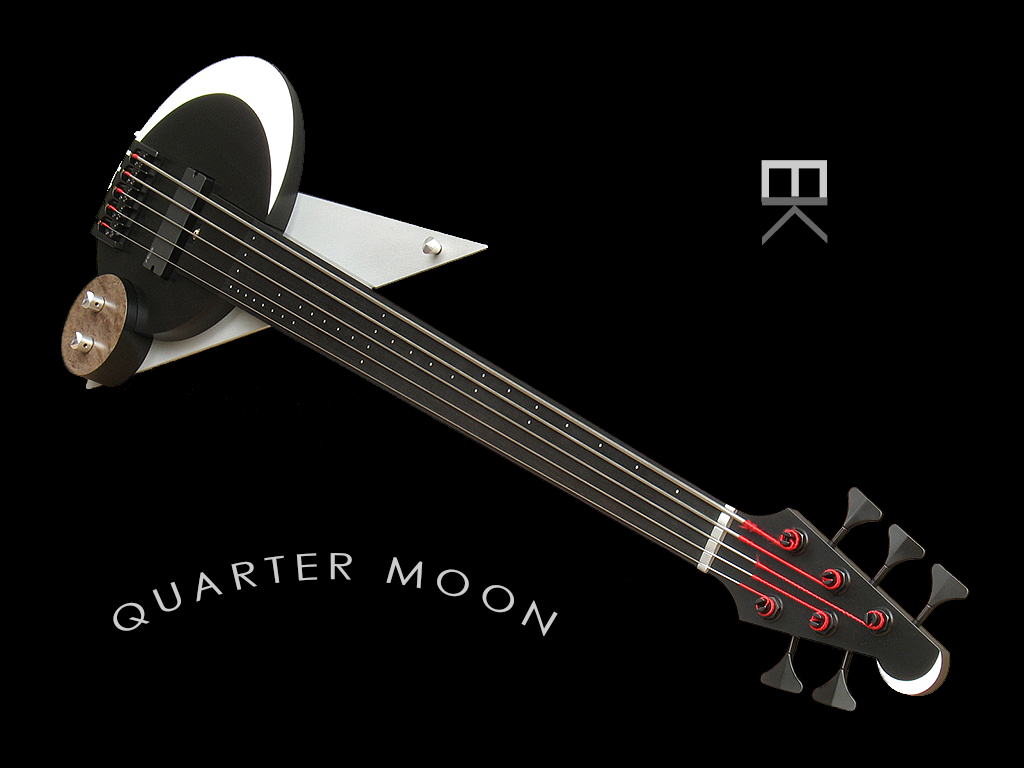 QUARTER MOON aluminum, maple, poplar, ebony, coloured lacquer finish 2011
The sculptural work Quarter Moon shown here is a five string fretless electric bass guitar composed of wood and metal.
Celestial bodies set against the midnight black of outer space are aesthetic elements in this piece that also serve practical purpose. The white crescent moon provides a beveled arm rest. An orbiting planet houses the volume and tone controls along with the input jack and 9V battery. One could also imagine the sculpted metal knobs and strap buttons, even the triangular plate to be satellites and rocket ships.
Bass guitars with their long scale lengths and hence long necks tend to be heavy and unbalanced. To address this an assemblage of lightweight component parts, mounted securely on an aluminum backing plate, features a unique semi-hollow laminated maple neck utilizing carbon fibre reinforcement and custom truss-rod. To compliment the design, one EMG-X active magnetic pickup was selected, along with Thomastik-Infeld Jazz flat wound strings fitted to Hipshot aluminum hardware.
Attention to these details resulted in a fine sounding musical instrument, comfortable to play and heavenly to behold. Out of this world!
ZIGZAG aluminum, Alaskan yellow cedar, German spruce, Spanish cedar, ebony 2010
Lightweight aluminum sheet metal, bent and folded in a corrugated manner, is mechanically riveted to the wood top and back. This method of construction is celebrated aesthetically as a repeating element embellishing the body perimeter and soundhole. Sculpting on the head make reference to the ZigZag line, carrying this theme from the metal into the woodwork. The neck is mechanically joined to the body in an inboard fashion without a protruding heel, affording more comfortable reach in the absence of a cutaway when fingering in higher positions on the fretboard. The surfaces of the metal and the plastic golpeador (tapping plate) are decoratively patterned adding depth and layering.
R-EVOLUTION East Indian rosewood, Bearclaw Sitka spruce, mahogany, ebony 2008

This unique cutaway design features a neck that is adjustable for action. Accessible through the soundhole, a custom machined mechanism pivots the neck around its mounting fastener to effectively raise or lower the strings above the fretted fingerboard to the desired height. Also novel on this experimental guitar is the component neck consisting of separately machined neck shaft, open teardrop head and 'keel'.
GOSH Figured imbuia, Western red cedar, Spanish cedar, ebony, Sterling silver inlay 2007
Immediately apparent is the offset soundhole which neatly accompanies a 20 'plus five' fret fingerboard. This strategic placement allows unimpeded sound wave projection since the hand does not block this air disturbance when playing. Relocation higher into the upper bout also offers an increase in the vibrating area of the top. Moving the soundhole a little closer to the player's ears may also offer an enhanced personal sound experience.
The internal structure was inspired by the work of Viennese luthiers from the 19th century. A strong lightweight tubular support is held firmly in place to counteract string tension forces. This carbon fibre tube is fitted along centreline, underneath and clear of the soundboard, between the upper and lower bout rib blocks. In conjunction with laminated linings, a rigid framework is thus established for the body of the guitar to support both the soundboard and neck. The elevated fingerboard is cantilevered above the soundboard upper bout. The entire top is allowed to move more freely.
'Meeting the Makers - A visit to Side x Side Studios' - Grapevine Magazine 2017 winter edition featured artist article. 'The studio is permeated with the heavy scent of earnest and sincere endeavour'.

Vintage Guitar Magazine included the Performance OM in their November 2016 New Acoustics section.
'Art meets Music' - County Magazine 2016 spring edition featured artist article.
Acoustic Guitar Magazine featured the Ellipse in the March 2011 Edition - Read the
Great Acoustics page
.
Britain's Guitar & Bass Magazine highlighted the Ellipse at the 2009 Montreal Guitar Show - 'An entirely new, ground breaking steel string...'

guitarbench.com - Online guitar magazine featuring luthier and player interviews, articles and reviews. Read my
luthier interview from 2009.
Ontario Arts Council - The province of Ontario's primary funding body for professional arts activity. Since 1963, OAC has played a vital role in promoting and assisting the development of the arts and artists. The Ontario Arts Council is an agency of the Government of Ontario. As a grant recipient, Edward Klein gratefully acknowledges their support.
Montreal Guitar Show - This exhibition and sale of fine handmade guitars was one of North America's premier events of its kind. The 2011 edition was Ed's fifth year presenting new work at this show.